Lovina Beach - Dolphin Travel in North Bali
Lovina Beach is located in Buleleng, North Bali, known as one of the beaches frequented by dolphins in Indonesia. the presence of dolphins is one of the main attractions of this beach.
Formerly, Lovina Beach is only known among foreign tourists. Because of its calming atmosphere, foreign tourists are so happy to visit this Lovina Beach. In the end, Lovina Beach developed into a tourist attraction in the northern part of Bali that can be visited by all groups.
Before visiting Lovina Beach, it's good you know first what is on Lovina Beach.
This is the most important, of course you have to know the location of Lovina Beach. Lovina Beach is located in the village of Kalibukbuk, Buleleng sub-district, Buleleng Regency, Bali. Lovina Beach is about 10 kilometers from the city of Singaraja or about 20 minutes drive. If you depart from Kuta, it will take 2 hours 53 minutes or around 89 kilometers.
In addition, from Denpasar to Lovina Beach will take 2 hours 31 minutes or about 81 kilometers.
For the route, if you depart from Singaraja, you can take Jl. Ahmad Yani headed Jl. Singaraja then to Seririt. After that you will find a road sign that reads Lovina Beach.
Or if you leave from Ngurah Rai airport, enough via Jl. By Pass Ngurah Rai to Jl. Sunset road then goes to Jl. Imam Bonjol. After being on Jl. Imam Bonjol you can just drive to Jl. Raya Denpasar to Gilimanuk then walk a little to Bedugul. The final destination is until you get to Seririt.
Price of Entrance Ticket to Lovina Beach
You will be happy to visit Lovina Beach anytime to see dolphins for free. Yes, you will not be charged for visiting this beautiful Lovina Beach.
This beach is open every day for 24 hours. So you can enjoy the beach atmosphere anytime. however, there are also tips for you so that you can have fun at Lovina Beach at certain times. And you should avoid the time when Lovina Beach will be crowded by tourists. Certainly, you won't want to ruin the holiday this time.
It's best if you visit Lovina Beach in June, July and August. At this time it will be dominated by European and Chinese tourists. Whereas for local tourists will be crowded in June and December, on school holidays. To enjoy more, actually you only need to take time off or take a vacation and visit Lovina Beach in January to May or between September and November. Vacationing at work will make you more enjoy the atmosphere at Lovina Beach.
Attraction of Lovina Beach
This attraction will impress you with what Lovina Beach has. Guaranteed, you will increasingly linger at Lovina Beach.
Beautiful Black Sandy Beach in Bali
Make no mistake, besides white sand - Bali also has a beach with its natural black sand. Lovina Beach is one of a number of beaches in Bali that have black sand. This will amaze you with its uniqueness, and will be very suitable for you who like the art of a photographer.
ALSO READ : The Origins and History of the "Balinese Highlands"
A place to see dolphins
If you want and love dolphins, then you choose the right place when visiting Lovina Beach. There are more than hundreds of dolphins that can accompany you to play.
To get a closer look, just rent a boat and take you out to sea before sunrise. Dolphins usually appear from the beach with a distance of about 1 kilometer. The right time is at 6 to 8 in the morning.
There are tips too, to see dolphins at the right time. You can come from April to October. In addition, in the dry season it will be difficult to see them.
The beach with the best sunset spots
Lovina Beach features a beautiful view at sunset, with nature you can watch directly without obstacles.
Accompanied by dolphins who played there yesterday will add to the beautiful impression of this Lovina beach.
The beach is used as a place for coral reef conservation
Lovina Beach is also used as a place for coral reef conservation, with views of its beautiful marine life and marine animals that meet the waters of Lovina Beach. This also makes scientists interested in doing conservation.
Facilities that you can use around Lovina Beach
Now, in addition to its appeal that makes you feel at home, you can also use the facilities available. As follows.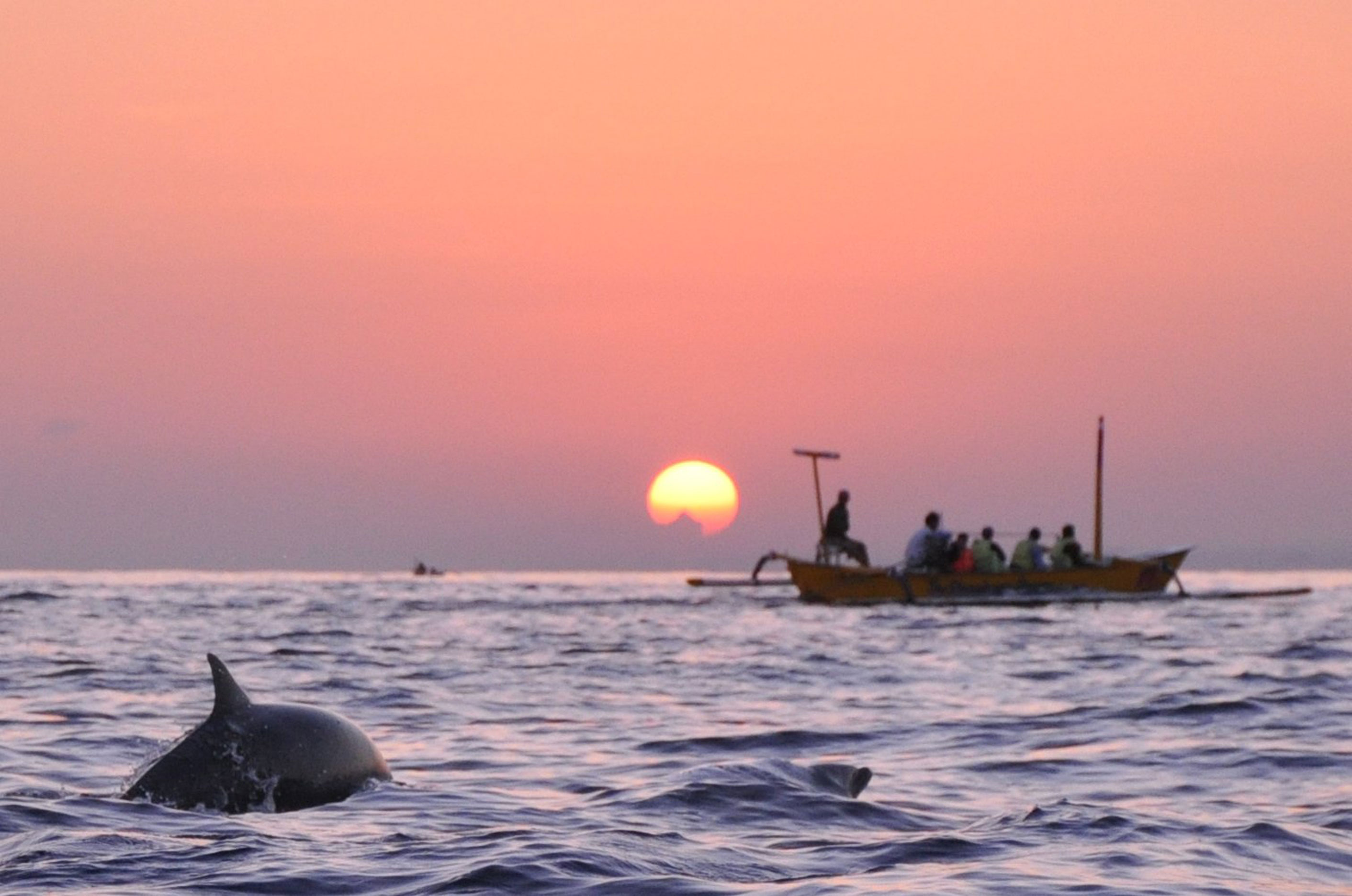 Cheap hotels around Lovina Beach
Of course you will be exhausted after playing with dolphins, and it will probably take a lot of time to travel quite far home. Take it easy, because you can find reasonably priced hotels around Lovina Beach. So you don't need to hurry to go home.
Indra Pura Hotel - a hotel located near the edge of Lovina beach on Jl. Banyualit Lovina with a rental price of Rp. 136,364 per night.
Parma Hotel - lodging near the beachside of Lovina at a price of Rp. 152,000 per night
Cempaka Lovina Hotel - hotels that have rental prices around Rp. 165,000 per night
Nirwana Water Garden - a hotel that provides free wifi at a price of Rp. 227,000 per night.
You can also find various tourist attractions along the way to Lovina Beach, such as Taman Ayun Temple Objects, Lake Beratan Bedugul, Ulun Danu Bratan Temple, Buyan Lake, Tamblingan Lake, and Eka Karya Bedugul Botanical Gardens.
How? Already interested? Nothing wrong with taking leave in the middle of the workday. This will make you enjoy Lovina Beach more than on holidays that will be full of crowds.
Don't forget to devote dolphins that are playing. Enjoy your day off.
Lovina Beach - Dolphin Travel in North Bali
Reviewed by
sandro
on
Wednesday, November 20, 2019
Rating: